Question and Answer with Jerry Weidmann
President of Wisconsin Lift Truck & President of MHEDA

We are pleased to highlight Wisconsin Lift Truck Corp and Jerry Weidmann. Jerry  is the President of Wisconsin Lift Truck and President of MHEDA and was gracious enough to answer some questions regarding Wisconsin Lift and the Lift Truck Industry.  Jerry's answers to our questions are full of useful "nuggets"  so be sure to take a close look.
Can you give us a summary of the history of Wisconsin Lift Truck and how you became involved in the company?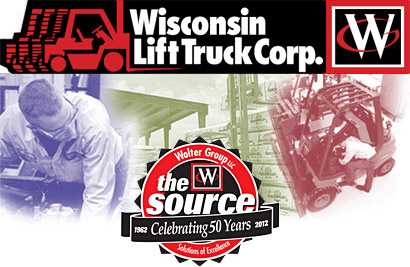 Wisconsin Lift Truck was founded in 1962 by Otto Wolter. The company was originally known as LPM Parts & Service of Milwaukee, Inc. Over the fifty years that followed the company grew from a two person business operating out of a garage to a business employing over three hundred people, eight facilities and sales in excess of $80.0 million. The company provides service to over 10,000 customers in Wisconsin, the upper peninsula of Michigan, and northern Illinois. With over 135 highly skilled technicians including over 100 field service technicians, supported by a dedicated service staff and eight facilities. The company maintains an inventory of over $1.5 million of parts to support its customers.The company has over750 late model rental units to support its customers. Over ten semi's to deliver and pick-up equipment in its service area.Today, Wisconsin Lift Truck is the flagship company of the Wolter Group LLC that includes Wolter Power Systems, Wolter Material Handling, Wolter Investments, and Illinois Material Handling. Wolter Groups material handling operations distribute lift trucks, rail car movers, aerial equipment, construction equipment, industrial cleaning equipment and storage and handling products. Wolter Group's power systems division distributes generators and engines. Wolter's leasing company provides lease financing to Wolter's customers.
The Wolter Group performs at a high level in all of the markets it serves. In 2011 Wisconsin Lift Truck was awarded the Dealer of Excellence by MCFA, the Diamond dealer award by Doosan, the Summit award by Hyundai, and was the top equipment dealer in North America for Linde. In addition, Wisconsin Lift Truck was awarded the Most Valuable Distributor award for Steel King and was the number one Power Boss Dealer in North America.
How I became involved in the company:
Wisconsin Lift is a family company. My wife is one of the four children of the founder, Otto Wolter. Prior to joining the company I was in the investment and consulting business. At the request of my father-in-law, I initially did some consulting for him on his Illinois operations. Shortly after the consulting project began, I took over as General Manager of the Illinois operations of the company in 1991. I led our Illinois Material Handling operations for seven years, founded our fleet management operations in 1998, became the Chief Operating Officer of the company in 2001, and the President in 2007.
2012 marked Wisconsin Lift's 50th year of business. In your opinion, what key events or objectives have attributed to the success and longevity of the company?
Our mission is " To enable our customers success through value-added solutions, supported by superior service and quality products professionally delivered with a sense of urgency." Our success is founded in delivering on our mission statement. Executing the five key elements of our mission statement determine our longevity and success:
• Value added solutions – we are committed to providing solutions to our customers that enable their success. We dedicate significant resources to training our staff, vetting our suppliers, and continuously working to help our customers succeed.
• Superior service – The products we sell are critical to the operations of our customers. We invest in equipment, technicians, technology, training, and support staff to assure our customers of the best service in the industry.
• Quality products – We offer one of the broadest product lines in the material handling industry and a broad spectrum of products in power systems, aerial equipment, and storage and handling products. We are committed to having the right products to meet the needs of our customers.
• Professionalism – The ability to discern the needs of our customers, identify the best solutions and then to execute them requires professionalism at all levels of our organization.
• Sense of Urgency – We are committed to supporting our customers at the speed of business. Our products are used in mission critical applications for our customers and need to be operating at peak performance. It is our mission to always support our customers with a sense of urgency that exceeds their needs.
Are there any areas that you can think of in which WLT had a particular obstacle or struggle, and the organization was able to have a specific turn around or success in overcoming the issue or issues? If so, please elaborate.
Over our fifty year history we have faced six recessions of which the most recent recession was the worst. Success is determined by your reaction to adversity more than your participation in prosperity. In downturns we have consistently pursued market share growth, whether through product line expansion, aggressive sales approaches or acquisitions.
During the most recent recession we made all of the normal adjustments everyone else made to adjust our expenses to declining revenues. In 2010, we acquired one of our competitors. This year we acquired an independent, and we expect to acquire another material handling firm by the end of the this year. It is through persistence and resilience that we will continue our growth. Our revenues in 2013 will exceed our performance in 2007.
What do you feel are the primary obstacles for material handling dealer growth in general over the next 5 years?
We continue to be in an economy that is growing very slowly. Banks continue to be conservative. Health care costs continue to rise at a rate in excess of inflation. Competition continues to be fierce for the business that is available. Material Handling dealers that do not implement growth strategies will grow slowly, at the pace of the general economy. With rising expenses and slow growth, material handling dealers will continue to experience profit pressure. Dealers must contain expenses, become more efficient and pursue growth above what the economy will deliver.
In terms of future growth, what objectives are you focusing on to remain an influential leader in the material handling industry?
Our growth strategy is four pronged.
1. Organic growth. We continue to invest in new business development programs including telemarketing and new business development staff to grow our core businesses.
2. Acquisitions. We continue to pursue incremental growth through acquiring companies in our businesses.
3. New product lines. We continue to look for and to add product lines that are complementary to our existing businesses and match up with our customer base.
4. Geographic expansion. We are expanding in the Illinois market to provide a foundation for future growth.
What advice do you have for growing lift truck dealers?
My advice is to decide what success for your business looks like. Establish a mission statement. Develop a strategic plan that will be your roadmap for growth and the basis of determining financial and human capital requirements for success.
But most of all, pick a destination and commit yourself to getting there.
I would be remiss if I did not remind every dealer to join MHEDA. Network with your fellow dealers. Learn from the failures and successes of others. Participate in training and networking that MHEDA offers. There is a wealth of knowledge available to every dealer.
How do you see technology affecting and or influencing MH dealers in the future?
Technology is an operation accelerator. It provides more efficient ways to do work and it forms the foundation for improved customer service. It is my belief that the dealer that effectively implements technology that enhances its operational efficiency and improves customer service will be the winner in the future. The technological innovations of today become the minimum standards of tomorrow. Those that lead, win
.