When using SRA to create a new forklift proposal, the equipment and financial worksheets bring together all of the important data that you have selected during the process and imports that data into your customized proposal and order.
We understand that  in certain circumstance you may want to quote something other than a new forklift. For that circumstance you can use the generic worksheet to create a quote for anything that your dealership sells such as racking, forklift accessories, batteries, chargers, training, used equipment and more.
There are five primary advantages of using SRA's generic worksheet to create quotes:
1. Customer Data – Existing customer data stored in SRA can be added into the generic worksheet.
2. Dealer Adds – The fields in the "Dealer Adds" dialogue box can be used to include your dealer freight, prep fees, discounts, margins or markups in the worksheet as shown below:

3. Dealer Proposal Consistency – The generic worksheet helps the dealership maintain consistent branding with custom designed proposals .
4. Reporting – In addition to reporting on new equipment, SRA can be used to report on everything that you quote and sell using the generic worksheet.
5. Batteries and Chargers – While creating a new electric forklift quote, SRA gives the ability to add a compatible battery and charger to the quote.  However, if you want to only quote a battery and/or charger on its own, the generic worksheet is the only way to quote these products.
The generic worksheet can be found among the list of other product lines in the selection box as shown below: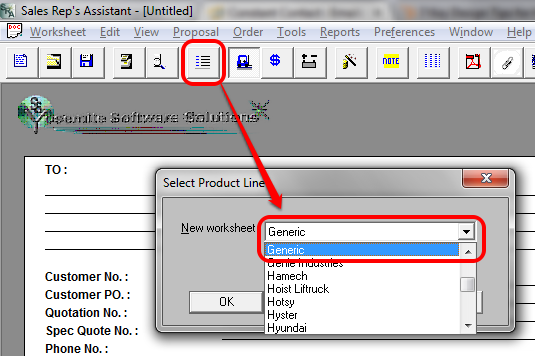 Once the generic worksheet has been opened, you can double click anywhere on the "Description of materials" box to open the "Generic Worksheet Input" dialogue box:

The quantity, item title and price can be entered into the worksheet input box and will be added to the worksheet automatically after clicking the "OK" box. If you want to add more information for the item being quoted, you can press the description button and a new dialogue box will open: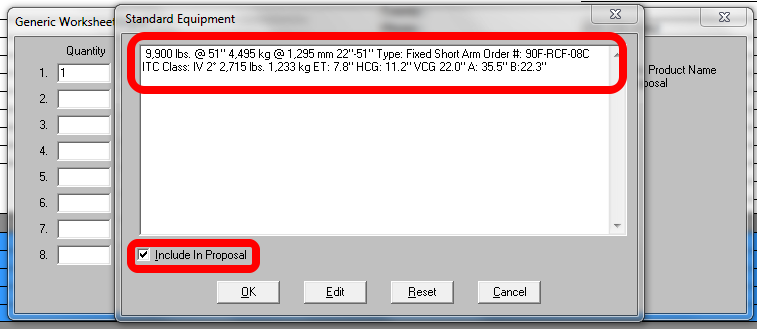 In this box, detailed specifications for the product can be added to the worksheet, and by checking the "Include In Proposal" box, this important data will be added to the customer proposal.
After completing the generic worksheet input, you can go on in SRA to add freight charges, dealer prep fees, margins, discounts and financing options, and then print your proposal and/or sales order.
If you have any questions regarding use of the generic worksheet, please contact us at 1-877-248-1771 ext. 2 or support@yosemitesoftware.com