We understand that an equipment sales rep needs to have a diverse mix of information at their disposal in order to create a complete equipment proposal. One of our goals is to see to it that a sales rep has all of the information they need from inside SRA.
On the tool bar in SRA, you will see the PDF logo as shown below:

Some of the PDF files that can be stored for quick access include: equipment brochures, attachment capacity tables, financing and lease rate sheets and much, much more. The PDF files are stored in the in the folder of your choice and as long as you have SRA pointed to that directory path from within preferences. If you have a server install these files can be stored in a common location so that everyone in the organization can have access to them from within SRA.
After clicking the PDF button, the dialog box opens as shown below: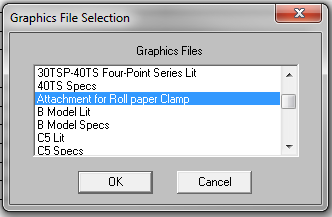 Simply click on the document that you want to view and the document will open in your PDF reader of choice. If you have any questions or need help initiating this feature please contact us.